~ How It Works ~
Use the secure PayPal links below to order your videos. Once you make payment we will e-mail you your password as soon as possible (Within hours of your purchase). We will also send you easy to follow instructions on how to download your video. If you have any questions, please CONTACT US
Thank You For You Support & Enjoy
~ Girl vs Men Fantasy Fighting ~
Foot Fights - Karate Action - Wrestling - Knock Outs - Domination - Foot Worship - Victory Poses - POV & More
KOd By Her Karate

Black Belt Bitch, Bella, starts off by showing you her big feet up close as she explains what she can do with each part of her powerful feet can do. Then its time to punish, smash and destroy you in a karate match where you will be finished under foot and KOd by her karate!
7 Min - $6.99
Black Belt Brat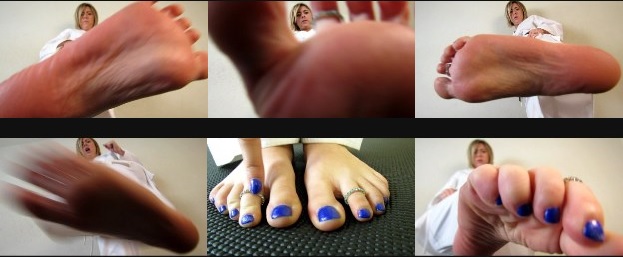 Black Belt Brat, Bambi, Stars in her first kick ass karate clip and shes one mean, bitchy, black belt brat! She taunts, teases and tells you what to do as she kicks your ass with her highly trained but very bratty feet! Kick after kick smashes into your face as she orders you to sniff on her toes, lick her dirty soles, polish her toerings with your tongue and calls you a loser while slapping your face with her dominant karate feet! At the end, shes bored with you and finishes you under her stomping soles with loud kiyas!
12 Min - $11.99
If You Win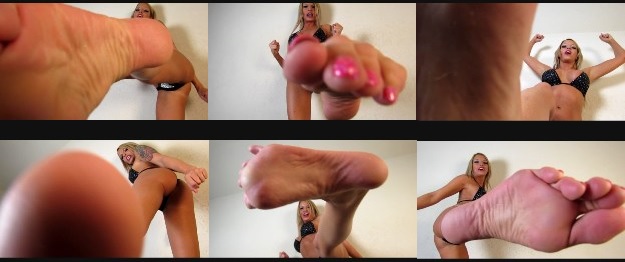 Foot Fighting Champion, Bella, knows you have a crush on her big, powerful feet! She knows you want to do all sorts of nasty things to her sexy karate kicking feet...and nows your chance. It's simple, beat Bella and she's let you do anything you want to her big, sexy and highly trained karate feet, she'll even give you a foot job! But if you lose, she's going to kick, smash and destroy you under her big might soles!
9 Min - $8.99
Never Bet A Black Belt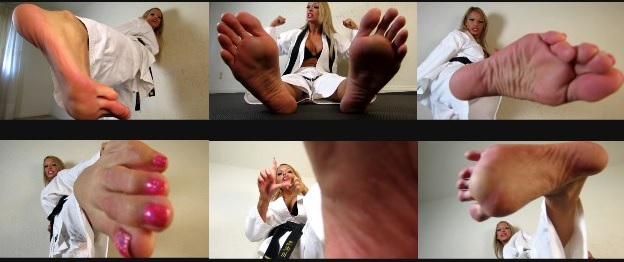 Wow, you really bet a lot of money that you could beat Black Belt Bella in a karate fight! Well, here's your chance to win back your money and get whatever you want from beautiful Bella, you only have to win and you know thats not going to happen. She starts off by telling and taunting you with all the things she can do with her big karate feet, like brake boards, faces and a lot more. Then the time comes where you have to face off and its also the begining of your end, loser. Bella's feet will own you with her kicks and each time she knows you down, she forces you to be at her feet until she finishes you once and for all!
10 Min $9.99
Box Me For My Body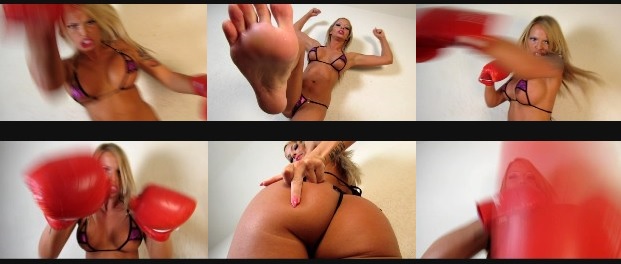 So you want to have your way with Bella's sexy body? Juicy ass and big round tits? Well, you can have it all...if you can beat her in a boxing match? That's right, beat Bella and she'll let you do whatever you want to her sexy body, but lose and shes going to kick your ass and count you out as she poses all over your pathetic, loser face and broken body! Each time she knows you down, she taunts you and dominates you at her feet where you belong! So, are you up for the challenge?
9 Min - $8.99
Face Blasting Feet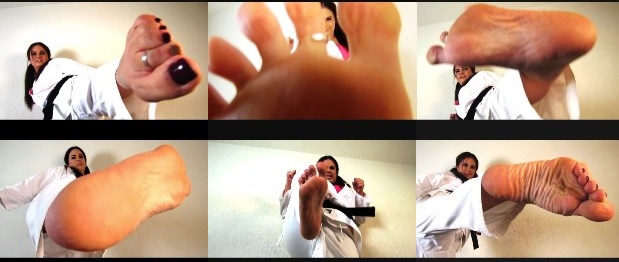 Hot Seller! The dojo is closed and the door is locked. Now its only you and black belt babe, Tori, alone on the mat, ready to face off. She's surprised you had the balls to fight her. Tori taunts you and humiliates you as she prepares to destroy you with her big size 10 feet! The fight begins and Tori shows you no mercy as she blasts your face with kick after powerful kick! Once she has you down she forces you to kiss her black belt and worship her mighty feet before picking you up and finishing you with punches, chops and face blasting feet..."its official, you've been DeFeeted by a Girl!"
8 Min - $7.99
Queen Foot Fighter
If face stomps, karate chops and Tori forcing her opponent to cum in his pants is for you, then you found the perfect clip! Tori is the Queen Foot Fighter and she uses all her karate, judo and foot-jitsu skills to dominate and humiliate her opponent with her highly trained black belt feet! She uses her lethal feet to pump Leo's big cock over and over again until the black belt beauty forces him to cum in his pants while she keep him pinned down. In the end Tori is cruel and after forcing her opponent to cum, she finishes him off with a loud KIYA and a stomp to the face KO and then poses over him with her foot planted hard on his face, proving that she is the Queen Foot Fighter!
8 Min - $7.99
Beaten Down!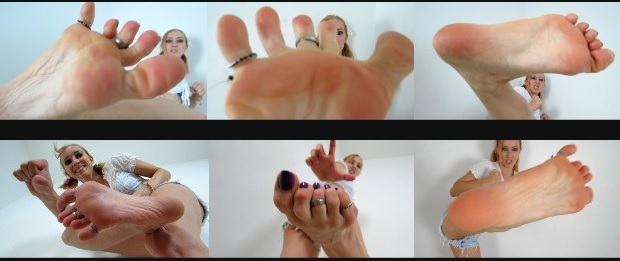 You thought she was an easy victim, but you thought wrong! You picked on a tiny girl who just happens to be a black belt in karate! Her name is Orias and she's about to beat you down She's going to smash her feet all over your face, all while she taunts you and forces you to sniff, lick and suck the same feet that are kicking your ass! In the end you're going to get KOd by the poor helpless girl you tried to attack and you will be under her hot soles.
10 Min - $9.99
Get A Job!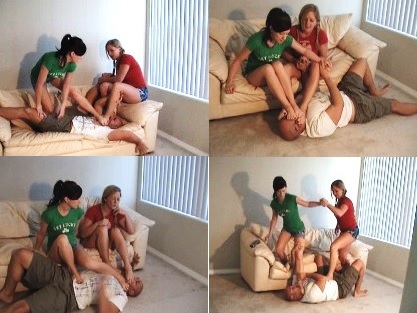 SPECIAL PRICE! Foot Mode Super Stars, Megan and Dia have a no good, pathetic, lazy loser of a roommate! They meet and tell him that he either has to get a job or move out. That's when the loser becomes a real jerk to the girls, but Megan and Dia are not having it. They take him over and kick his ass! They smash him with stomps, scissors, foot smothers, punches, ball busting and much more. They then punish him with their hot feet, toes and soles, forcing him to smell, lick and suck every inch of their feet before getting rid of him.
17 Min - $14.99
One Tough Cookie: Re Mastered

SPECIAL PRICE! Re Mastered! Megan proves to be One Tough Cookie as she uses her karate, jujitsu, wrestling & fighting skills to defeat & humiliate her macho and very cocky opponent! She kicks his ass with punches, leg scissors, rear naked chokes and then knocks him out with a long hot foot smother! She then poses over the beast of a man under her victorious foot and shows the world that this tiny stick of dynamite is one tough cookie!
15 Min - $13.99
Black Belt Angel: Re Mastered

SPECIAL PRICE! Remastered! The First Foot Mode Video! A True Classic! When Single girl and karate Black Belt, Anika comes home from a long day at work, she is confronted by a nasty thief 2 times her size. When the thief won't leave & even slaps Anika's face...she has no choice but to teach this jerk a lesson in manners. She uses her martial arts skill to take the thief apart. First in her clothes and hose, then after knocking him out she peals off her her clothes in front of you and slips on a nighty. She then proceeds to wake the thief up & kick his ass again in her little nighty and sexy bare feet. Anika'a martial arts are featured in this match, her kicks are very hard & on target. Leo actually threw up after taping of this hard hitting match!! Anika laughed.
20 Min - $14.99
Taken Away! Re Mastered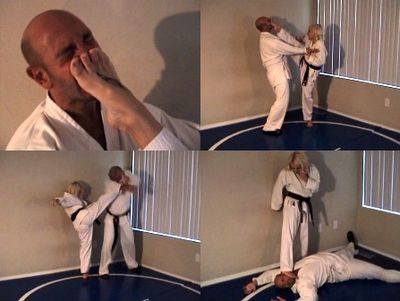 SPECIAL PRICE! Re Mastered! He thought he was tough, but against his sexy black belt blonde opponent, Missy, he's nothing but a kick bag! The bitch taunts him as she kicks his ass, then she takes his black belt & finally takes away his dignity by making him smell her feet while she grinds her feet in his face before finishing him off!
17 Min - $14.99
Miss Pierce: Karate Humiliatrix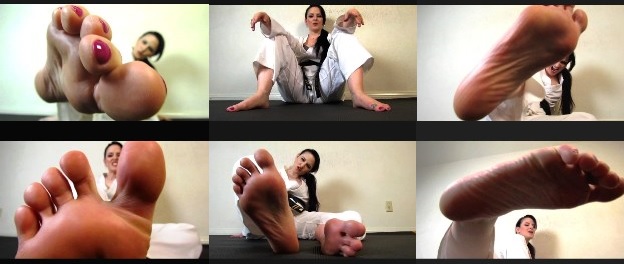 Beware of Miss Pierce. She's sexy, mature and a black belt in karate. Watch as Miss Pierce slowly explains to you who she is and what her karate feet can do to you. She talks about her toes, soles and heels and how they can smash your face, body and balls! Oh, and she demonstrates each strike the way only Miss Pierce can...and she has no mercy for a loser like you.
9 Min - $8.99
Dojo Dungeon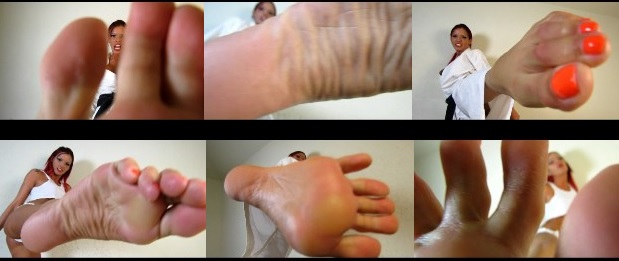 You were so excited about your date with ultra hottie, Bella. You had fun, she looked sexy...that was until she told you she was a Black Belt! She explains how she loves to use her highly trained feet and hands to destroy boards and boys just like you! You try to escape, but she beats you down with kicks and chops! She KOs you and you soon wake up...in her Dojo Dungeon! This is where she brings all her victims and you're next, there is no escape from her big, powerful karate feet!
10 Min - $9.99
DeFeeted Fool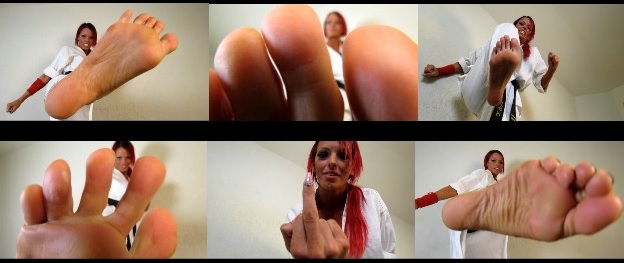 Your day has finally come to meet face to face with the Black Belt Bitch, Bella. She looks at you and laughs, she taunts you and even shows you her black belt feet and tells you what she's going to do to you. You're a fool for challenging Bella and now your going to pay dearly for your mistake with kicks, and chops! Her kiyas are so loud, her feet so powerful and in the end, shes going to stomp you out over and over again until your face is smashed and KOd under her big long sole!
5 Min - $4.99
Karate Domination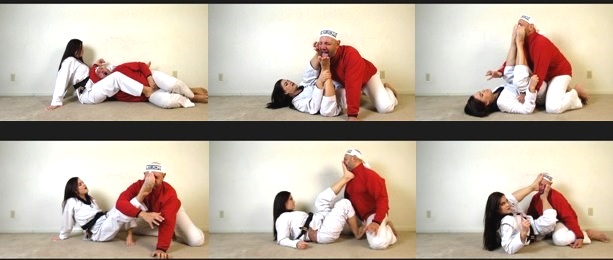 Smashed by Tori's big black belt feet, forced to worship her feet, milked dry by her soles, KOd and posed over! Thats what this awesome clip is all about! Tori is the girls Karate Champ and Leo is the Men's karate champ! The two battle it out to see who the Champion will be and Leo doesnt stand a chance against Tori's big size 10 highly trained black belt feet! She kicks, slaps, stomps and crushes Leo under her powerful soles until he's been DeFeeted. Then the Champ forces him to worship her feet, smell her victory and lick the karate sweat from her soles before clamping her soles together and milking his cock dry in his gi before KOing him with the same feet that just dominated, humiliated and milked him! vicTORIous!
9 Min - $8.99
The Liar Loses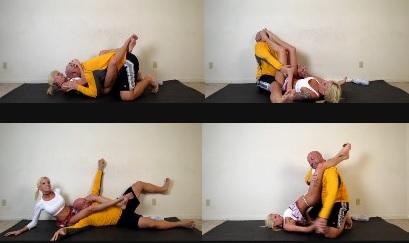 The school's wrestling champ, Leo, has spread rumors that he's slept with the most popular girl in school, Bella! When Miss Popular finds out she challenges the liar to a wrestling match. The rules are simple, if Leo wins, he's going to take Bella on the match and have sex with her...but Bella knows this isn't going to happen and tells the liar that she's going to knock him out with powerful leg scissors, belly punches, stomps, foot chokes breast smothers and foot smothers!
9 Min - $8.99
Chop & Stomp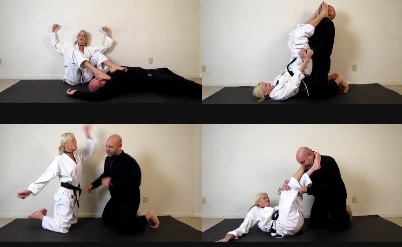 Black Belt Bitch, Bella, chops and stomps her way to victory as she uses her lethal karate skills to destroy her opponent. With each KIYA & HAI! Bella delivers bone crunching chops and face smashing stomps over and over again until she finishes her pathetic opponent off with her long strong feet under a hot and sweaty foot smother!
7 Min - $6.99
Princess Of Pain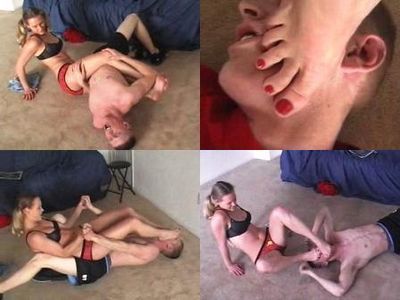 SPECIAL PRICE! Want to talk about Pain? How about the Princess Of Pain, the one & only Phoenix! When macho man, Jimmy, threatens Phoenix, she laughs in his face. He then challenges her to arm wrestling & she beats him with ease. Then he gets mad & wants to fight her, but the Princess of Pain unleashes a painful beating that Jimmy or You will never forget. Using her Jujitsu & grappling skills, the second degree black belt, locks, pops & grapples Jimmy's body into painful positions. All Jimmy can do is cry like a little boy as Phoenix really hurts him without breaking a sweat!
23 Min - $17.99
Karate DeFeet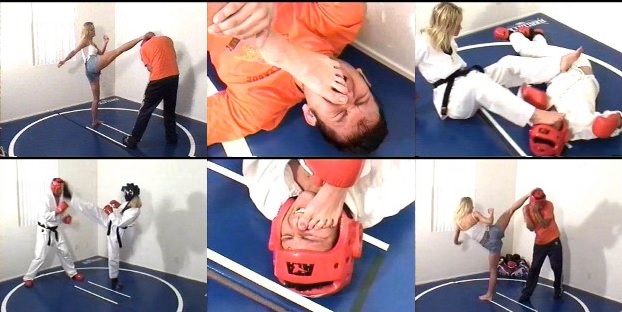 SPECIAL PRICE! Second degree Black Belt & Foot Mode Super Star Phoenix faces Tony in a black belt battle of the sexes for the World Tae Kwon Do Championship! The announcer gives you the play by play & kick by kick as Phoenix destroys, toys & humiliates Tony beyond belief! And after the puts him down she plants her foot on his face & tells him "Smell My Feet!" as she poses over him & wins the World Title! Later at her dojo, Phoenix finishes practicing her double nunchuk routine and calls it a day. She changes into tiny shorts & is on her way out when Tony is at the door demanding a private rematch to avenge his loss! Phoenix laughs & agrees to kick his ass again. The two go at it again as Phoenix kicks Tony around the mat again & again until she puts him down, steps on her faces, poses, then finishes him off!
21 Min - $15.99
DeFeeted In Her Dojo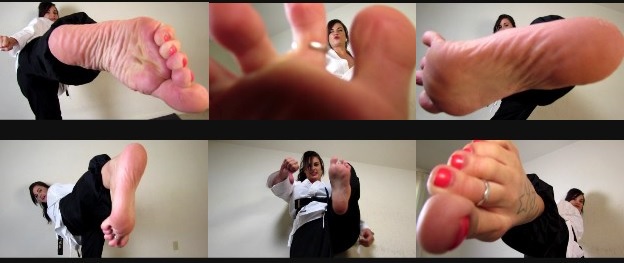 So you think you're man enough to enter Tori's dojo and win? That's funny loser, because you are not only wrong, you are about to get your ugly face front kicked, side kicked, heel kicked, thrust kicked, round kicked and stomped until your nothing but a pile of hot, defeated and KOd man meat under Tori's BIG BLACK BELT SOLES!
5 Min - $4.99
Ground & Pound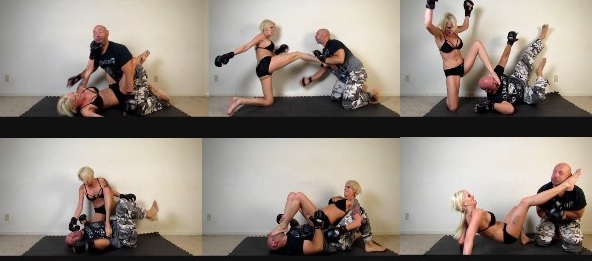 Sexy, Hot, Bad Ass Bella, knows how to use her hot body, powerful legs and sexy feet to ground and pound a man into the mat! She throws punch after punch and kick after kick to her opponents ugly face! She crushes his nose and smashes his body with her might karate kicks! There is nothing he can do as Bella uses him for target practice! She traps him in scissors, foot chokes and arm bars! She makes him cry and then stomps his face into the ground where she finally sends him to dreamland with a HOT KO!
9 Min - $8.99
Black Belt Girlfriend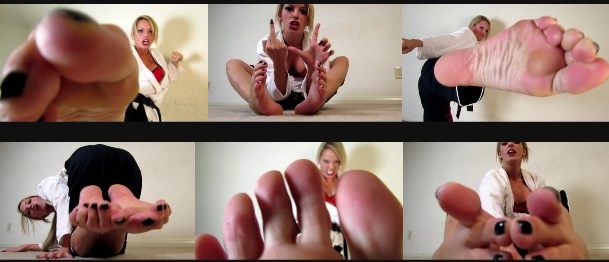 Bella's your girlfriend and guess what, loser? She just found out you've been cheating on her! And here's another thing...your girlfriend is a black belt in karate and shes about to beat your loser ass! She launches her attack with face smashing side kicks, front kicks and stomps each with loud, yelling HAI!! She punches you in the face over and over again with her powerful and then chops you down like a tree! Once she thinks you've had enough and your laying on the ground at her dominant feet, your now EX GIRLFRIEND pulls out your cock and gives a rough and tough, black belt foot job until you squirt all over her karate feet...thats the kind of loser you are!
9 Min - $8.99
Foot In Face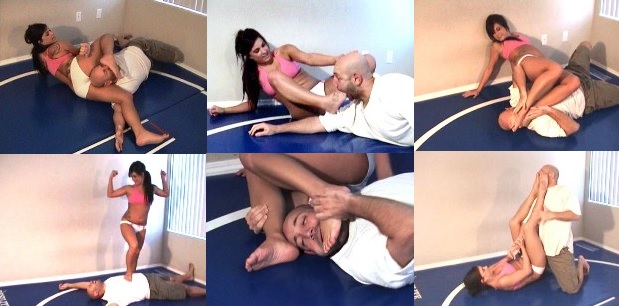 SPECIAL PRICE! Foot Mode Super Star Tori kicks some serious ass in this video! She uses wrestling, grappling, judo & jujitsu moves to tire, submit & dominate her opponent with her tan sexy feet! Through out the entire 3 rounds Tori always finds a way to smash her hot foot into her opponents face & body! But what's even hotter is the end of each round, Tori forces him to smell her feet! Suck her toes! And lick her big soles! Tori's got great moves, hot feet & sexy victory poses!
12 Min - $8.99
DeFeeted By Foot-Jitsu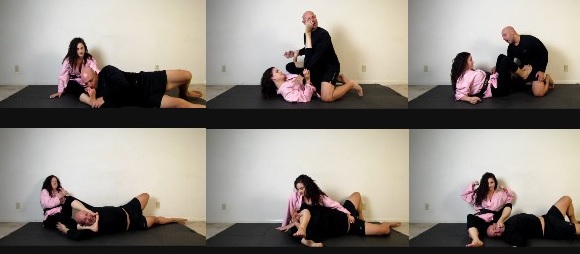 Does Foot Mode Super Star, Tori, explode with karate and foot-jitsu power in this awesome clip! After DeFeeting Leo in their first fight, Foot Mode Queen, Tori, accepts another challenge from Loser Leo, but this time she's going to make him pay! She get him in hold after hold using only her black belt feet to punish him, but then the ultimate humiliation as her grabs his cock and pumps him! Then she clamps her feet around his cock again and pumps him til he almost loses it in his shorts! Thats when Tori moves in for the big foot smother KO. After posing him she wakes him up and forces him to worship her victorious foot-jistu feet before putting him out again under her big powerful soles. This is the hottest Tori clip yet!
13 Min - $12.99
Bad Ass Boxer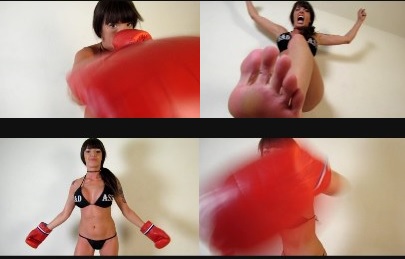 It's you vs Bad Ass Boxer Bella is a KO count out only match, You think your tough, well you're about to learn a lesson as Bella boxes you out with her fast and her amazing female power! Each time Bella knocks you down, she quickly starts to count you out and though you get up several times, Bella knows that her powerful punches will wear you down and put you down for the count as she poses over you and counts you out!
9 Min - $8.99
DeFeeted By Her Judo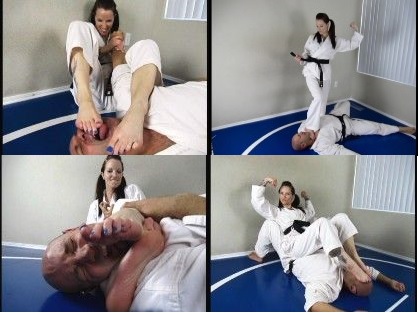 SPECIAL PRICE! Black Belt Judo Bitch, Aiden, uses her dominant feet, her judo & jujitsu skills to DeFeet her pathetic opponent! She has no mercy on him as she smashes his face & body with her lethal feet! Aiden forces him to sniff, lick & suck on her feet as she taunts him & puts him in pain holds! 3 Round, 3 Knock Outs, Awesome Victory Poses and Total Victory for Aiden the Judo Queen!
11 Min - $8.99
Jealous Jerk

SPECIAL PRICE! Foot Mode Super Star, Megan, stars in this awesome movie! The jerk is jealous because hot & sexy Megan got the job! He wont let her get away with it! But Megan is not afraid. She wants to kick his ass! She uses her wrestling, karate & foot fighting skills to beat the heck out of the jealous loser & even forces her dominant feet into is face & mouth until she decides its time to finish him off!
12 Min - $9.99
Enter The Dragon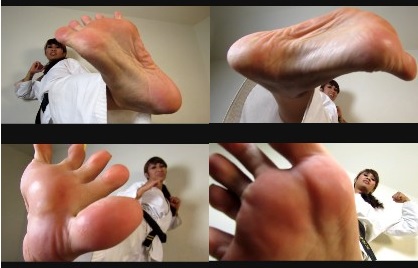 At last you have the balls to step inside the dojo to face off against your nightmare, the one, the only Dragonlily and her lethal karate feet! First she stretches and taunts you with her smooth sultry accent. Then she stands up and thats the beginning of the end for you, loser! The Dragon fires kick after kick after kick to your face! Smashing it and holding her foot in place so that you can suffer, smell it and feel the heat from her black belt sole! In the end, you are no match for Dragonlily as she decides to finish you off under her might foot, KIYA! You're Done!
8 Min - $7.99
Double Trouble Foot Smothers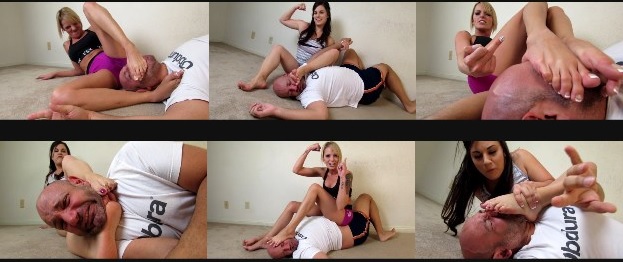 Foot Mode Hotties Tori and Bella are about to have a foot smother match when they both turn on Leo, who's behind the camera. There's n no escape for the poor guy as the girls take turns beating his ass and foot smothering him out over an over again while the girls take turns filming the entire thing! They taunt, humiliate, dominate and KO poor Leo with their big bad girl feet!
5 Min - $4.99
Bella The Best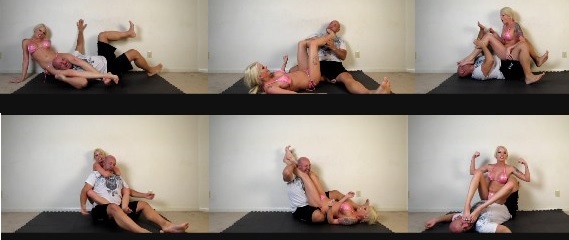 Bella is the Best and she proves it in this one sided, KO filled fight against a loser of an opponent. She smashes and trashes him with her powerful moves and KOs him every time she locks on a punishing hold. All he can do is cry and be Bella's bitch as she KO's him one final time and then poses over him like the loser of he is! Bella uses foot smothers, scissors, rear naked chokes, fighting, foot chokes and other power moves in this hot match.
9 Min - $8.99
Ultimate Fighting Bitch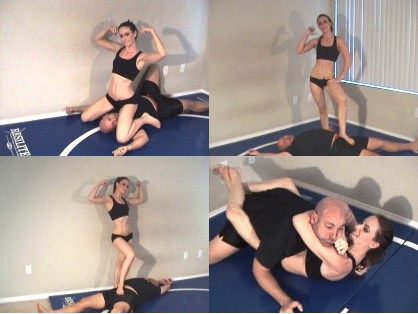 SPECIAL PRICE! Welcome to the UFB! Foot Mode's first competitive mixed martial arts video! Staring super hot Sonya! This is a 4 round match of mixed martial arts action that includes grappling, judo, wrestling, jujitsu & much more! Each round includes multiple tap out submissions & knock outs! Sonya takes her time between each submission & proudly poses victoriously over her opponent, her hot foot planted firmly on the losers body, face & cock! Sonya rocks in this video & we think she will rock you too!
17 Min - $13.99
Orias Captured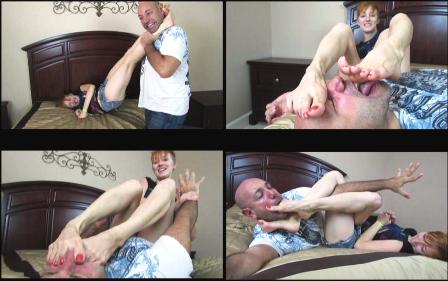 SPECIAL PRICE! Super sexy Orias has been captured! She now lays in bed waiting for the jerk that took her from her house! He walks in, threatens the tiny girl and orders her to shut up or else! But Orias is not going to let this creep get away with it, she's going to take action! Her feet are lethal weapons and once she takes him down and forces him to submit, she humiliates him with her big feet, toes and soles!
15 Min - $12.99
Orias Captured 2: Finished Off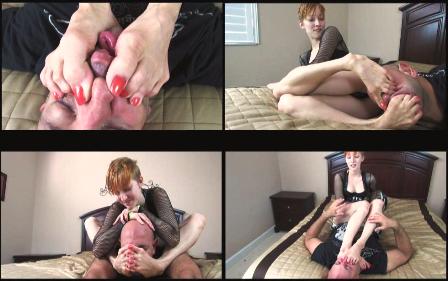 SPECIAL PRICE! After kicking her captors ass with her feet in Captured 1, the bad guy is back again and this time he wants revenge! But, he will get none! That's because Orias's foot fighting and foot domination skills are the best and this time she makes the bad boy suffer under her feet, between her legs and under her soles until she decides to finish him off for good!
11 Min - $9.99
Dirty Dojo Feet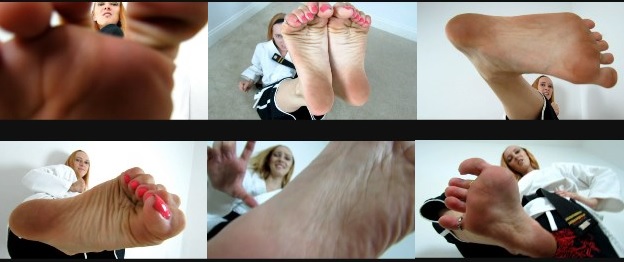 Karate Mistress, Orias, is back and she's giving you a once in a life time chance to go one on one with her, in her dojo and fight her to the finish. Think you can handle her dirty dojo feet? Well. if you lose, Orias is going to make you eat the dirt from her filthy toes and soles. Get ready because you are about to get your face blasted by the black belt bitches dirty dojo feet! This movie has awesome extreme close ups of POV fighting feet and POV foot worship. A MUST for all Orias fans.
12 Min - 11.99
You're The Best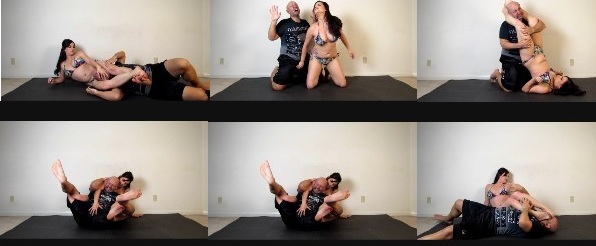 When Leo claims to be the best, Tori literally puts the smack down on him and then beats his ass without mercy! She gets him in scissor hold after scissor hold, crushes his face with her feet, breast smothers, rear naked chokes and powerful moves...but her secret weapon is pumping his cock with her hot feet and strong hands! This puts Leo in incredible pain as he cries for mercy, Tori shows him none and he admits that she is the best.
9 Min - $8.99
Foot-Jitsu Queen

Foot-Jitsu Queen, Tori, Stars in this hot foot fighting packed clip. She goes up against a cocky wrestler who calls himself the King of the Ring, but little does he know who he's messing with. Its Tori and she's about to smash his face with her black belt feet, slap him silly with her soles, forces him to kiss her karate feet and finish him off under foot all after painfully DeFeeting him with kicks, scissors, arm bars, ball busting, face smashing and much more!
13 Min - $12.99
Bella's Dojo Stories 1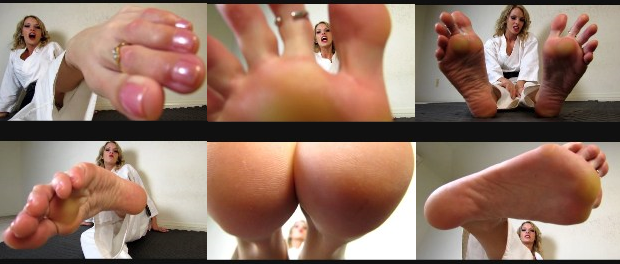 Sexy Karateka, Black Belt Bella, tells you stories of her ass kicking karate adventures and shows you all the moves that she used to destroy her victims. In her first story, Bella tells you a story about the time she had to teach a big karate loser a lesson in respect by kicking his ass with her big, bad, black belt feet! She gives you all the hot details of how she DeFeeted the loser in front of her karate class and then finished him off under her big karate feet!
8 Min - $7.99
Bella's Dojo Stories 2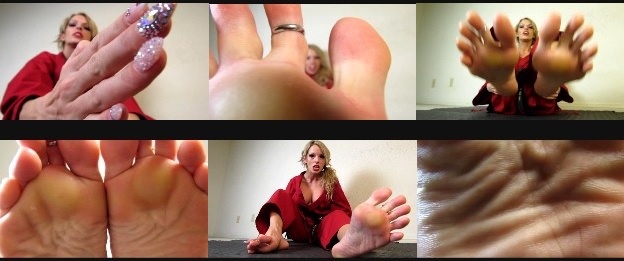 Sexy Karateka, Black Belt Bella IS BACK and she's telling you more stories of her ass kicking karate adventures and shows you all the moves that she used to destroy her victims. In her second story, Bella tells you about the time she was in Miami, walking around the beach when some jerk smacked her ass! That's when Bella unleashed her big, powerful karate feet all over this losers face, balls and body! She shows you every move she used to crush this asshole with extreme close ups of her big black belt feet!
8 Min - $7.99
Bella's Dojo Stories 3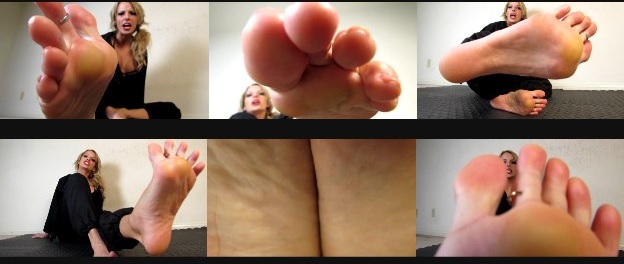 Hot Karateka, Black Belt Bella IS BACK a third time and she's telling you more stories of her karate kicking adventures! She shows you all the moves that she used to crush her victims. In her third story, Bella tells you about the time that her no good, pathetic roommate claimed that he didn't have money for the rent and Bella beat it out of him! She punished him so many different ways and in the end, she KOd him with her BIG black belt feet and then found his stash of money, took it all and went back to stomp on his face again!
10 Min - $9.99
Karate Foot Fury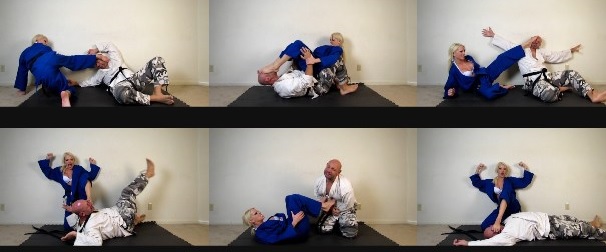 The Black Belt Bitch, Bella, is ready to destroy her big pathetic male opponent with her lethal weapons...her high trained, face braking feet! She warns Leo that she will use Foot-Jitsu, Karate, Judo and Wrestling to crush him into a pile of loser man meat! And that's exactly what she does. She uses her big feet over and over again to kick her opponent in the face! She crushes his body with kicks, scissors, chops and rear naked chokes! She shows him no mercy, no respect and no letting up until she's KOd him cold under her powerful, kiya yelling foot stomp to the face!
10 Min - $9.99
Sale! - You're A Pussy!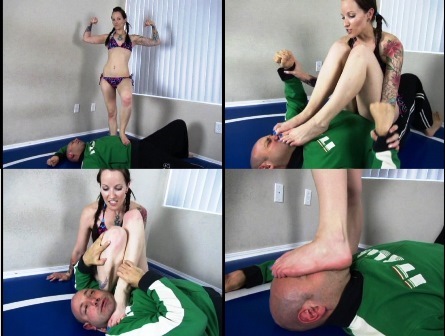 Foot Mode Super Star Aiden rocks this video! Aiden walks in & calls Leo a pussy after he says that girls need to be smacked around! She gets in his face & soon all heel breaks loose! Aiden kicks his ass all over the mat with wrestling, grappling & jujitsu holds! She makes him smell & eat her feet while she taunts him & humiliates him! She knocks him out over & over again with sleeper holds, scissors & foot smothers! Then she poses over with her sexy feet all over his beaten body! Aiden rocks this video & her pussy bitch opponent!
15 Min - $11.99
Black Belt Mother In Law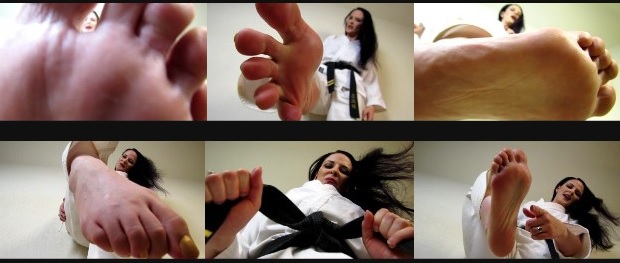 Your wealthy and very bitchy Mother In Law. Caroline, calls you and asks you to come over for a chat. When you arrive you are shocked to find out that your Mother In Law is a Black Belt in Karate! She stands over you as she explains that she doesn't like the way you are treating her daughter and its time she teach you a lesson! She explains how lethal her karate feet are and then demonstrates by smashing your face, nose and throat! Her pointed toes slap and turn your balls into jelly as her kiya's make your cock twitch! You don't stand a chance against your Black Belt Mother In Law and now you are under her feet...where you belong!
8 Min - $7.99
Karate Loser Cums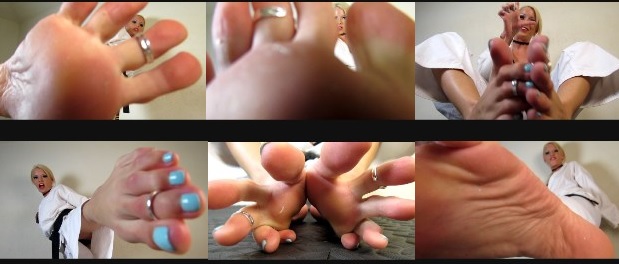 It's you vs Bella in a Karate Fight...and you are in the for the beating of your life...But be warned, Bella doesn't play around! She's going to use her long, strong, lethal feet to kick you in the face over and over again until your done and under her hot victorious sole! But she's not done with you...she going to humiliate you beyond belief, shes going to force you to cum on the dojo mat by giving you a black belt foot job! That's right loser, Bella is going to milk your pathetic cock with her hot, sweaty, big feet! She's going to ruin you and then leave you on the mat in a puddle of your own mess...LOSER!
10 Min - $9.99
Sale! - Self Defense: Confront & Crush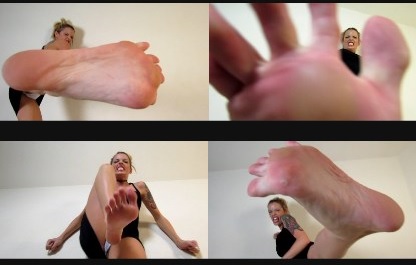 SPECIAL PRICE! Bella is walking in red hot heels when you creep up behind her. She turns to see you and confronts you. She tells you that she is a black belt as she slowly slips off her heels and then KIYA! Bella proceeds to kick, chop and smash you with her lethal karate skills. Every time she kicks you can see her Gstring just before her hot, sexy foot smashes into your face. She knows you down to her feet and stands over you, she taunts you and orders you back up for more punishment until she's tired of you and ends your world with her long legs and powerful, highly trained karate feet. You're done, loser, KIYA!
10 Min - $7.99
Sale! - Dojo DeFeet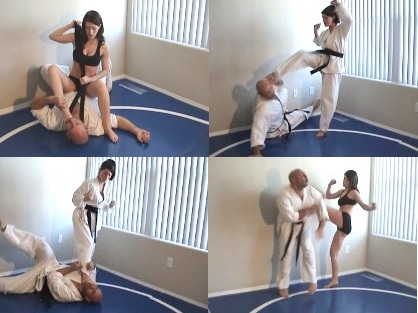 SPECIAL PRICE! This hard hitting video Stars Megan kicking ass in the dojo with her feet! As she trains a cocky black belt walks up to her & asks her out on a date. She tells him NO, but he insists. He wants to go out with the sexy karate girl so bad, he makes a bet. They will fight & if he wins, they go on a date. But is she wins, he will leave her alone & even give her his black belt as a trophy! Megan accepts his bet & his challenge, he will be defeated under her karate kicking feet!
21 Min - $16.99
Sale! - Karate Avenger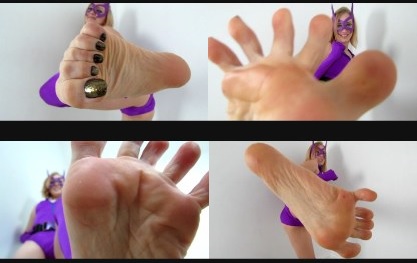 SPECIAL PRICE! You just robbed a bank and you're trying to get away, but for you, there is no escape. The Karate Avenger has you cornered and she's going to kick your ass with her lethal weapons, her highly trained karate feet! But she will make you a deal, fight her and win and she will let you go with all the money. Lose and she will finish you under her sole!
9 Min - $7.99
Sale! - Karate Crush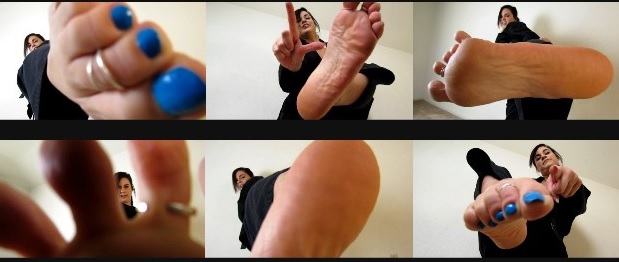 The Karate Queen, Tori, meets you in the dojo in an all black gi and black belt. Her toenails painted bright blue and her feet ready to crush you! She begins by taunting and talking down to you. You're a loser and she cant believe you challenged her to a karate fight to the finish. The fight begins and there is nothing you can do as Tori fires kick after devastating kick to your face and balls. Each time you fall to the ground in pain, she forces you to worship her big black belt feet, toes and soles. Once she thinks you've had enough, she kicks you the ground, forces you to worship her feet while she poses over you, then, its time for a final KO crush kick to the face...you're done!
11 Min - $8.99